project


CERES

International Project


---
The CERES International Project is an energetic hub for experiential learning and multidisciplinary research. The Project is set over two beautiful sites in the middle of the
Parque Natural Vincentina
and is close to the Atlantic ocean. We set aside the vast majority of our land to create a privately owned and managed terrestrial reserve. Initially, we are renting a villa to accommodate visiting researchers and students as temporary measure until the CERES eco-lodge and classroom have been finished to our standards.
From the very outset minimising the environmental impact of our new field station was of paramount importance. The Rebela eco-lodge will open early in 2016. The new classroom and the field laboratory will be finished by the end of 2016. Phase two is the construction of an eco-village which will enable us to accommodate larger student groups.
" an energetic hub for experiential learning
and multidisciplinary research "

---
The eco-lodge will be situated on a stunningly beautiful plot of land in the heart of the Amoreira River valley. The spot is beautifully secluded. Yet, with a combination of alternative energy sources, the lodge will provide hot showers, Wi-Fi, and even a nature pool built from a recycled reservoir. The new building will be constructed on the footprints of an old abandoned farmhouse resembling it in style and size. The decks surrounding the lodge will provide a view of the wildlife within the setting of the river valley and cork forest.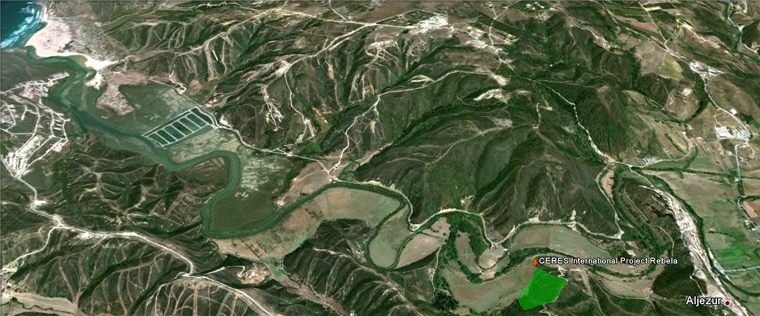 Google Earth satellite image showing the land boundaries of Rebela and the Aljezur river. The Amoreira estuary is about 2km downstream. Go to Google Maps and search for CERES Aljezur.



The building is designed and planned carefully - showing that functional and good design can go hand in hand with sustainability. The building will be predominantly self-sufficient in terms of energy and water supply and will exceed the latest insulation standards. We will install a photovoltaic system that is big enough not only to supply all our own electricity but also feed a surplus of green energy into the grid and recharge an electric car. All water heating for showers and our innovative wall heating system will be solar. Air conditioning in the summer will be achieved with natural cooling utilising a cross-ventilation scheme. Water will be pumped with solar powered pumps from a borehole on site, cleaned in a Bio-Cycle waste water treatment system after use and released through a reed bed 20m from where it was extracted. The only non-renewable resource that will be used is a minimal amount of gas for cooking.



| | | |
| --- | --- | --- |
| | | |
| | Floorplan of the Rebela eco-lodge | |
For the construction, we will use local materials and labour whenever possible. A thick lime render will control indoor humidity and contribute to a healthy living environment. Portuguese cork will provide insulation. Local pine and eucalyptus wood will be used to for the pergola (gin-and-tonic promenade it has been called!) and our bespoke handcrafted furniture.
Each of the five bedrooms will have a large French door leading to a wooden deck where guests can awaken to the sound of waves and the sight of storks and herons. A large communal open plan kitchen and living area will be linked with French doors to the outside. A log fire will provide warmth during the rare cold winter evenings and there will be an outside pizza oven that our guests can enjoy. We will provide a secure under cover storage area for your field equipment, bikes and surfboards.

We are trying our best to minimise our impact on the environment and are aware that there is always room for improvement. We are always open to discuss new ideas and are grateful for suggestions.
| | | |
| --- | --- | --- |
| | | |
| Taipa build walls | The ruin situated in the wetland | Orchard terraces in front of the ruin |
---
The 112m
2
Resource Centre enjoys stunning views over the terrestrial reserve and the Monchique mountain range. It will contain a laboratory, office, a lecture-classroom and conference room. The Resource Centre will also have a small but dedicated library, a weather station with data logger as well as a herbarium / zoology collection of local specimens. The laboratory (with 30 individual workstations) will be equipped for studies in terrestrial and aquatic ecology. Wireless internet access will be available throughout the buildings. The office will have ten networked computer stations, scanners, colour and laser printers. The classroom (with smart board, projector and sound system) will have capacity for 50 people.
---
CERES International is working closely with local, regional and international partners to set aside over 50 hectares of our land as terrestrial reserves. Effective research requires dedicated sites to provide long-term data for evaluating environmental changes and management actions as well as developing the indicators and basic knowledge necessary to understand and manage ecosystems. Our reserves facilitate multidisciplinary research projects, the development of long term monitoring programs and provide opportunities to evaluate innovative land managing techniques. We intend to set up educational trails to engage the public in scientific field research and raise awareness for conservation issues.
vale de maia
Comprising of over 50 hectares, the Vale de Maia site contains pronounced hilly areas of schist with acid soils dominated by
garigue
and
macchia
vegetation. The secluded valleys have a rich ecological diversity and are intersected by temporary streams that dry out during the summer. Principal vegetation consists of cork oak (
Quercus suber
), strawberry tree (
Arbutus unedo
), rock rose (
Cistus ladanifer
), Spanish lavender (
Lavandula stoechas
), and thymus species. The more accessible areas have previously been terraced and used for eucalyptus silviculture.


Lavender (

Lavandula stoechas

)
View of Aljezur in the mist

Treehouse at Vale de Maia


rebela
The smaller Rebela site (2 hectares) is situated in the flood plain of the Aljezur River (Ribeira de Aljezur) that leads into the Amoreira estuary. Freshwater wetlands that are interspersed with temporary ponds abound the site to the west. The floodplain is used for traditional cattle ranching and harbours an extremely rich biodiversity. The site is above the salt wedge limit of the Aljezur river but still under semi-diurnal tidal influence. A mature cork oak (Quercus suber) forest and macchia vegetation cover the west sloping hills of the reserve.


| | | |
| --- | --- | --- |
| | | |
| Aljezur river downstream view | Wetland with Rebela ruin in the back | Aljezur river upstream view |
The CERES mission is to support interdisciplinary research projects. Researchers and course leaders are encouraged to use our equipment and accommodation. Applications should include a brief research proposal or syllabus in their reservation request and describe general objectives, methods, duration, dates, space needs and other special requirements. Both of our reserves are part of the
Parque Natural do Sudoeste Alentejano e Costa Vicentina
and Nature 2000 sites. Most scientific activities will require a research permit from the
Instituto da Conservação da Natureza e das Florestas
(ICNF). We will be glad to provide help with the permit application process and to establish contacts to local researchers.
---
CERES is an ECG accredited company. We aim to respects and protect the wellbeing of people and the environment - including our staff, visiting researchers, students and the places we work. We are aware that visiting us inevitably involves international travel. We are working on ways to avoid air travel and use public transport to get to us. If there are no real alternatives to flying we are setting up a transparent, local carbon offsets scheme to compensate for the emissions we produce with an equivalent carbon saving (please see our travel policy). For offsite activities we try to use businesses that support the local community in terms of produce and services. Our guests are also encouraged to contribute to the local community by visiting shops, restaurants, and cafes. We do our bit by providing free conservation workshops for local schools and kindergartens.


Our bags are from an award winning Portuguese company who are cyclic in every stage of production. The cotton is organic, it is processed in a factory that recycles all the water it needs. The factory produces its own electricity and uses organic dye. We have water saving devices installed in all our taps and showers. All lights are LED, powered by our large photovoltaic system. Excess energy produced by our solar pales is feed into the national grid.


We try to make sure the ingredients our chefs use to prepare a delicious dinner are sustainably produced and locally sourced (within 100kms). We take back all the food waste and compost it. All our meals are vegetarian or vegan by default. We only provide meat based meals on special request from our guests (which rarely happens...).


We have been recycling everything we could since day one but now we are trying even harder to reduce the resources we use: we buy in bulk, strictly avoid single use plastic, shop on the local farmers market, repair and only replace when necessary (not when a new colour comes out!). Pretty much all our furniture is hand-made locally from solid wood (or upcycled from pieces we found in the skip!)



We are making these decisions based on running our business, it is not meant to be a judgement on the choices any one makes in their own lives, everyone is free to make their own decisions! If you feel we have things wrong (there is always new information) or if you feel there is something else we can do, please get in contact.
---
Conservation (marine and terrestrial), Education (experiential, field based), Recreation (all sorts of watersports, climbing, cycling), Environmental Sustainability (walking the talk) and Internationalisation is what we, Axel and Astrid, are passionate about. As students, we both found excuses to carry out our Master´s projects on the shores of South Africa and subsequently our PhD studies in Cornwall. While having two children in-between, surf, kitesurf and field work trips, we started teaching.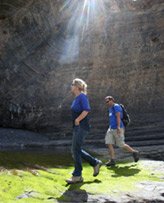 From our own experience, we strongly believe in the benefits of experiential, field based learning and the multinational, multicultural and multilingual experience of trips abroad. Our initial international field trips were well received. The quality of work produced was exceptional and the students loved them! This gave us the enthusiasm to organise more trips. We also discovered the inherent issues of taking students abroad: funding limitations, time constraints, and increased liability concerns. We became hooked with the challenge of making educational excursions abroad easier, safer and more pleasurable for all involved.
We received a CETL (Centre for Excellence in Teaching and Learning) fellowship to research `the perfect field station´ to partner with. The results of the research project showed that the `ideal´ field station does not yet exist. We like to see problems as opportunities. The seed was planted. Equipped with the knowledge from countless questionnaires, interviews, site visits and focus groups of what students and trip leaders expect from a field trip, the plan grew to build a new field study centre in Europe.


We were drawn to Aljezur. The warm winters, the accessibility, the location in one of Portugal's most beautiful Natural Parks, the constant surf, the rich diversity and the friendly people made Aljezur the ideal location to set up the project. We have been coming to this area for more than 20 years and after considering most of the alternatives we were certain that Aljezur would be the right place. We found an exciting plot of land in an ideal location, quit our jobs and took our children and cats on the ferry....this is how it all began!
---


astrid

Dr Astrid Juliette Blum (PhD, MSc, BSc) graduated in Geology from University of Kiel, Germany. The first part of her Master´s project was carried out in France (sediment transport of the Seine estuary); the second, a geological mapping project of a barrier island system, in Cape Town, South Africa (both "with distinction"). She then joined the Quaternary Environments Research Group at Plymouth University to take a PhD in sedimentology on a fluvial system in SE Spain.

Astrid has been employed as a lecturer in Ecology and Coastal Conservation at the Combined Universities in Cornwall. She is an enthusiastic teacher, fluent in four languages, with a strong background in fluvial and coastal geomorphology, Quaternary geology and sedimentology. Over the course of her career, Astrid has joined and organised several student field trips.
---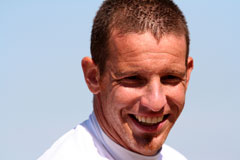 Dr Axel Bamberger (PhD, MSc, BSc, BEd) trained as a Biologist and Sports/Science secondary school teacher at the University of Kiel, Germany. He studied for his Marine Biology Masters project in South Africa and graduated with distinction in 1998. In the same year, he set up his PhD project on salmon conservation in Cornwall funded by a scholarship from the German Academic Exchange Service.
Axel received his PhD with distinction in 2008 after working for five years as a lecturer and later Programme Manager at the Centre for Applied Zoology in Newquay. In 2008 he was promoted Curriculum Area Manager to head the Marine Science and Ecology Departments. Axel maintained a keen interest in a broad range of subject areas. He has supervised numerous research studies across several subject areas and has experience in consultancy and project management.
back